Say YES to Malaysia's Fastest 4G Mobile Internet with Voice
Yes 4G Mobile Internet is a newcomer in mobile internet service provider in Malaysia. Yes is a 4G network by YTL providing mobile internet with voice services. With Yes 4G Mobile Internet, you can forget about having to pay separately for voice and mobile internet services.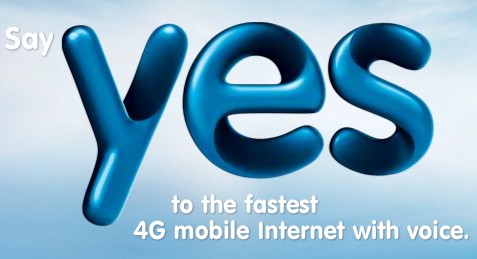 Yes 4G Mobile Internet combines voice, SMS and mobile internet into one account, one plan.
Here are a list of features for Yes 4G Mobile Internet:
3 to 5 times faster than 3G.
An all-IP network that is designed with the Internet in mind.
Starts with 65% of population coverage in Malaysia and will grow further.
Internet connection usable at North-South Expressway even when travelling at 120km/h.
Voice, SMS, Mobile Internet combined into a single account.
No fixed monthly charges or quota. So your account credit can be used for any of the services (Data/Calls/SMS).
No expiry of credit amount.
No SIM card. Uses Yes ID (Allows you to use multiple devices at the same time).
Instant account activation.
One 018 mobile number for all: phone, laptop, PC.
No capping or throttling of internet connection.
Online account management.
Yes 4G Mobile Internet will be officially launched on 19 November 2010. Meanwhile, check out Yes website..