Huawei MediaPad 7 Lite, Model S7-931w – Unboxing & Quick Review By a Home User
Warning
: mysql_num_fields() expects parameter 1 to be resource, boolean given in
/home/www/prajishsankar.com/blog/wp-includes/wp-db.php
on line
3026
I have resisted wasting money on gadgets so far until I saw a 7-inch tablet selling for $139 in the latest Coles supermarket catalog (in Australia). It is a Huawei MediaPad 7 Lite 7-inch tablet. I went online and checked the product website and also forum discussions on Huawei MediaPad 7 Lite. And I also checked professional reviews on this product.
Eventually I bought the Huawei MediaPad 7 Lite which became my first tablet!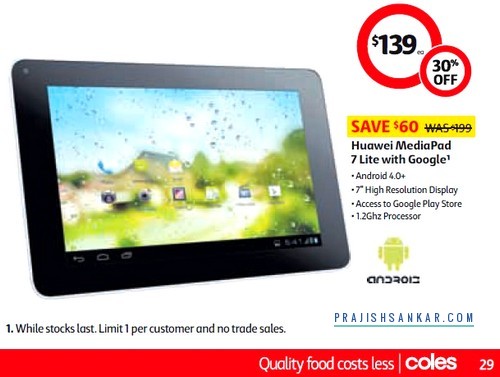 Based on professional reviews, this product doesn't look like cheap plastic and it is pretty solid to hold and use. But the performance comparison is nothing near a Nexus 7. I would say it is unfair to compare a $139 product with a $200+ product! With a silver aluminium alloy casing, Huawei MediaPad 7 Lite feels quite sturdy to hold and use.
I bought Huawei MediaPad 7 Lite as a family tablet for normal internet browsing, checking emails, Skype calls, reading ebooks, watching movies, productivity tools, etc. For these functions, I don't need to get a tablet with dual-core processor, a single-core processor is sufficient. For all the heavy computing work, I'll use my laptop. If you really need to use processor and memory intensive applications and high-end games, then it's better for you to spend more and get a tablet with higher specifications.
Unboxing Huawei MediaPad 7 Lite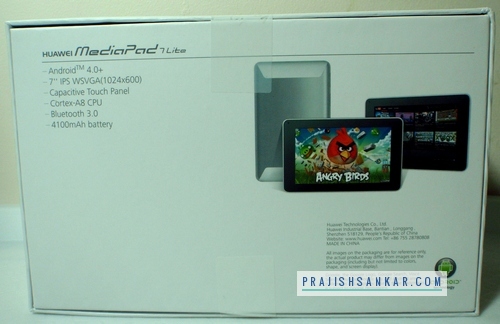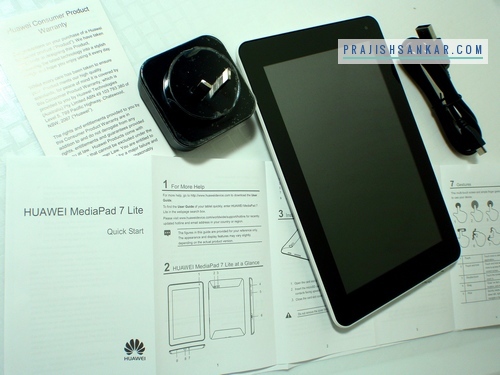 What's included and not included in Huawei MediaPad 7 Lite
These are the features of Huawei MediaPad 7 Lite listed on the box:
Runs on operating system Google Android 4.0+

Screen is a 7-inch IPS WSVGA (1024×600)
Screen is a Capacitive Touch Panel
Processor is Cortex-A8 CPU
Has 4GB of flash memory (according to product website it is 8GB – obviously this is a stripped down version)
Has Bluetooth 3.0 connection
Has Wi-Fi connection
Runs on 4100mAh battery
These are the features of Huawei MediaPad 7 Lite NOT listed on the box, but found on the product and mentioned in quick start or user guide:
Micro-SD slot (the product website says it can take up to 32GB card)

Front and rear camera (according to product website: Rear 3.2Mp, Front 0.3Mp)
Earphone or microphone jack
Microphone
Micro-USB port
Auto-rotate screen between landscape and portrait (this is a function of Accelerometer sensor)
These are the features of Huawei MediaPad 7 Lite listed on their website but NOT mentioned on this product model box, user guide and also quick start quide:
HSDPA 3.6Mbps / UMTS connection (is not included in this model – stripped down version from the product model on the website)

1GB RAM
These are the standard support and applications of Huawei MediaPad 7 Lite listed on their website:
Multimedia: Video – AVI, WMV, MP4, MKV, RM, RMVB, FLV, MOV, 3GP, up to 1080p30; Audio – MP3, WMA, WAV, APE, FLAC, AAC, OGG.
Office: MS Office / PDF Viewer
Google: Play Store /Movie /Search /Mail /Talk /Maps /YouTube etc.
Others: SW Upgrade, Android Widgets, Popular Internet (Facebook, Twitter etc.), Huawei HiSpace / Cloud+ / Call+ etc.
What not to expect in Huawei MediaPad 7 Lite:
GPS/A-GPS functions. It has GPS feature built in, found out about it while using the tablet.
Huawei MediaPad 7 Lite User Guide/Manual
Huawei MediaPad 7 Lite does not come with a User Guide/Manual. You have to download the PDF manual yourself from their download center.
Once you are at the website, under "Find by product" select "Tablets" and "Huawei MediaPad 7 Lite".
If you don't see the language required, click "+more" button.
Make sure the manual title includes Huawei MediaPad 7 Lite model number, in my case is "S7-931w".
I downloaded the English manual titled "HUAWEI Mediapad 7Lite User Manual(S7-931w,english)" which was last updated on 2012-09-13 and sized at 3.17MB.
Conclusion on Huawei MediaPad 7 Lite
I would say that Huawei MediaPad 7 Lite is suitable as a beginners tablet and for normal home usage. The built quality is pretty solid and the price is just right at $139. If it was being sold for $199, I will definitely NOT buy this and will go for a higher-end tablet with at least a dual-core processor, 8GB flash memory, GPS/A-GPS and probably with HSDPA connection too which would probably cost $200-$400+.
You can view the product website below for the full details and specification: