Are "In Case of Emergency (ICE) in Your Mobile Phone" Campaign Emails True?
YES, IT IS! In Case of Emergency (ICE) is a programme that enables first responders, such as paramedics, firefighters, and police officers, to identify victims and contact their next of kin to obtain important medical information. The programme was conceived in the mid-2000s and promoted by British paramedic Bob Brotchie in May 2005. It encourages people to enter emergency contacts in their mobile phone address book under the name "ICE". Alternately, a person can list multiple emergency contacts as "ICE1", "ICE2", etc. The popularity of the program has spread across Europe and Australia, and has started to grow into North America.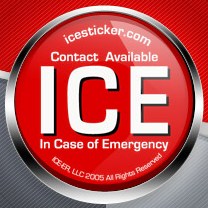 Industry experts expect over 300 million cell phone users in the United States alone in 2010. The U.S. Centers for Disease Control and Prevention reported in 2006 that 1,600,000 emergency room patients could not provide contact information because they were incapacitated. So many individuals, including teenagers, leave the home each day without any identification or emergency contact information, yet carry a cell phone.
A global campaign, started in the UK in 2005, has spread to the United States calling for individuals to program an In Case of Emergency contact (or ICE for short) into their mobile phones. ICESticker.com has developed an iconic self-adhesive visual alert to be applied to the back of the phone to serve as both as an alert for and invitation to paramedics and emergency personnel that the individual has established an emergency communication protocol.
Since launching in the summer of 2005, ICESticker.com has distributed hundreds of thousands of the original ICE Sticker visual alerts to a world-wide base of emergency responders, community organizers, government entities, private companies, and individuals just like you.
After receiving an email regarding In Case of Emergency (ICE) program in my email, I searched the internet to verify the information. I found that this is a genuine program which helps during medical emergencies. So I have added a few family members in my mobile phone contacts as ICE1, ICE2 and so on. In case something bad happens to me and I'm unable to talk, I hope someone will retrieve ICE phone numbers from my mobile phone and inform my family members.
You should add In Case of Emergency (ICE) contact numbers in your mobile phone too.. it might save your life!