Nikon's NIKKOR Lenses Simulator – You Can Zoom and Preview NIKKOR Photography Lenses Online
In recent years, DSLR camera prices have been reducing and many consumers have shifted from the common point and shoot compact camera to a higher end DSLR cameras. DSLR cameras are usually heavier and bulkier than point and shoot compact cameras. The main advantage of DSLR cameras are their interchangeable lenses.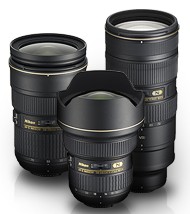 You can use variety of available lenses for different photography needs. There are lenses optimized for short distance, and there are lenses for long distance zoom. You can also find lenses to take close up macro shots. And there are also lenses optimized for fast action photography.
Nikon is one of the world's popular DSLR camera manufacturer. Nikon have their own interchangeable lenses caller NIKKOR lenses.
When you buy a Nikon DSLR camera set, it comes as a kit lens camera set which includes the DSLR camera body and a lens kit. The common kit lens bundled together can be AF-S DX NIKKOR 18-105mm F3.5-5.6G ED VR or AF-S DX NIKKOR 18-55mm F3.5-5.6G VR.
If you're a new user of DSLR or you've been completely ignorant about camera's 'mm' values such as 18-105mm, then Nikon has made available an online NIKKOR Lenses Simulator. At NIKKOR Lenses Simulator, you will be able to select any Nikon's available lenses and virtually zoom in and out of some photos. This will give an idea if the lenses are suitable or sufficient for your kind of photography. DSLR lenses are not cheap, so instead of buying one and testing, you can virtually test Nikon's NIKKOR lenses online.