Rice for the People Subsidy Programme (SUBUR-Program Subsidi Beras Untuk Rakyat)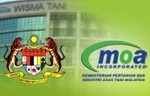 Malaysia Ministry of Agriculture (MOA) is subsidizing rice for poor people and families in Malaysia including Sabah and Sarawak using voucher system. These vouchers are given out to eligible people and family based on a pre-defined income chart. This voucher system is being implemented to replace all existing rice subsidy programs. This is also done to ensure that government rice subsidy reaches real poor people and to stop misuse of rice subsidy program by irresponsible people.
In SUBUR rice subsidy program, each family will be given between 1 to the maximum of 3 vouchers which depends on the number of people in the family. The SUBUR rice subsidy program vouchers will be given out every 6 months by "Pengerusi Majlis Pembangunan Pertanian Parlimen (MPPP)".
The SUBUR rice subsidy program vouchers can be redeemed at any shops having Grocery Rice License("Lesen Beras Runcit"). The rice category which can be redeemed are ST15% and SST5%. If any of the licensed shops refuse to accept vouchers and complains are lodged against them, the government will take action on them. The original vouchers are printed by Government Printers and have security features to prevent creation of fake vouchers.
To be eligible for the SUBUR rice subsidy program, you have to be a Malaysian citizen. And your monthly income should be lower than RM1,500 (urban area) dan RM1,000 (rural area).
Application for SUBUR rice subsidy program can be done at agencies under Ministry of Agriculture (Kementerian Pertanian dan Industri Asas Tani) as below:
Kawalselia Padi dan Beras Negeri dan Ibu Pejabat
Jabatan Pertanian
Jabatan Perikanan Malaysia
Jabatan Veterinar Malaysia
Institut Penyelidikan dan Kemajuan Pertanian Malaysia (MARDI)
Lembaga Pemasaran Pertanian Persekutuan (FAMA)
Lembaga Kemajuan Ikan Malaysia (LKIM)
Lembaga Pertubuhan Peladang (LPP)
Lembaga Kemajuan Pertanian Muda (MADA)
Lembaga Kemajuan Pertanian Kemubu (KADA)
Lembaga Perindustrian Nanas Malaysia (MPIB)
Tabung Ekonomi Kumpulan Usaha Niaga (TEKUN)
Projek Pembangunan Pertanian Bersepadu (IADA)
Bank Pertanian Malaysia (Agrobank)
Application for SUBUR rice subsidy program can also be done directly in:
Pejabat Pembangunan Negeri
Pejabat Daerah
Pejabat Pembangunan Persekutuan Zon
You can read about SUBUR rice subsidy program at Ministry of Agriculture (MOA) website.
You can download Application Form Voucher of Rice for the People Subsidy Programme (SUBUR) in PDF format here – http://www.moa.gov.my/web/guest/subsidi-beras-untuk-rakyat-subur-