MyIndians.com – Helping Malaysia Indians Solve Birth Certificates, MyKads and Citizenship Related Issues
Warning
: mysql_num_fields() expects parameter 1 to be resource, boolean given in
/home/www/prajishsankar.com/blog/wp-includes/wp-db.php
on line
3026
It is quite shocking to know that around 42.000 Malaysian Indians do not have Identity Cards even though they were born and grew up in Malaysia. The absence of citizenship has caused various problems to the community.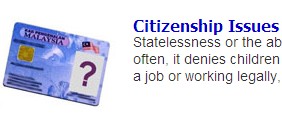 It denies children access to education. It prevents their parents from getting a job or working legally, and makes people vulnerable to labour exploitation, trafficking in persons, arbitrary arrest and detention, discrimination and other abuses. It denies families' access to health care, and prevents them from marrying or encouraging illegal marriages. And also prevents them from owning property, opening a bank account or travelling abroad.  In short, living without citizenship poses obstacles to meeting the basic needs and prevents their full participation in society; ultimately they lose their individual ability to exercise their human rights.
People without citizenship have multiple problems. They have children who cannot go to school and will remain illiterate and therefore resorting to crime or engaging in socially unacceptable professions. What transpires next is that they cannot register their marriages, open a bank account; hold a driving licence; obtain a passport and even voting rights.
MyIndians.com, together with Malaysia's National Registration Department (NRD) is trying to solve this problem. If you know of anyone who is having problems with birth certificate, MyKad or any citizenship related issues, you can submit the persons details online here, and My Indians will try to help in the issue.
Source: http://www.myindian.com.my/Citizenship.aspx