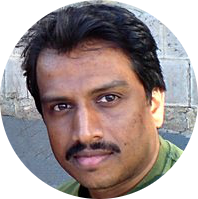 Welcome to my personal blog at PrajishSankar.com. Prajish Sankar is my name and I am the owner and author of this blog.
I love creating and running websites, which I have been doing since as early as 1999. I was then learning HTML and creating information link sites to free stuffs on the internet and proudly showed my friends. Those free hosted pages are nothing compared to the complexity of today's websites.
I finally decided to purchase web hosting package and register a .com domain name. I had no specific direction but just wanted to create a website with lots of visitors, so I tried viral marketing concept using PHP script programming. It worked but I spent too much time creating and coding the content pages, so I slowed down. Blogging and Content Management System was not popular back then.
In 2004, I registered another domain name and started an information website which I am still managing now. When I started this website, I was still using HTML, PHP and MySQL to create and manage the site and content. Before the end of 2008, I decided to try WordPress as a content management system for my website. And this was one of the best decision I made.
Since 2008, I have adopted WordPress in my own hosted space for all my websites. This was also when I registered PrajishSankar.com. Using WordPress enabled to me to set and configure my websites once and then concentrate on adding contents. I now run quite a number of websites using WordPress as the content management platform.
Quite a number of people have asked me where I host my websites. I have used several web hosting providers in the following sequence – Webserver.com.my > Mesrahosting.net > Hostgator.com > Internextwebhosting.com.
I currently still use Hostgator.com and Internextwebhosting.com, both of them are Unlimited Space web hosting accounts. None of the hosting in the world truly provide 'Unlimited' space as server hard disk can run out of space! One limitation in an 'Unlimited Space' web host is usually the number of files you can host. In this case, Internextwebhosting.com is my preferred choice as it provides much higher number of file limit. Hostgator.com has been sending me email warnings saying that I have reached a limit where they stop backing up my account and if I reach the higher limit, I risk 'action' being taken on my hosting account.
I am now slowly transferring all my websites to Internextwebhosting.com and hope their good services will last long. I have helped a number of people to create their website in Internextwebhosting.com and taught them on how to use it's easy to use Control Panel.
I hope you find information on my personal blog useful and informative! If you purchased web hosting and domain name from Internextwebhosting.com, contact me and I'll help you to setup your website/blog using WordPress for free!
If you would like to contact me, please use the Contact Me email form page.